iyengar yoga retreat on amrum island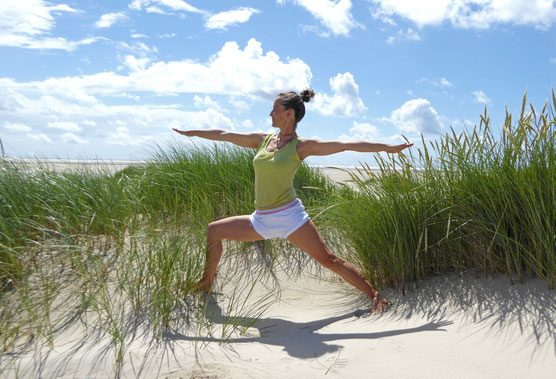 Iyengar Yoga Retreat on Amrum Island 
with Christine Bader
June 16 - 26 - 2019    
June 10 - 20 - 2020
blissful yoga, amazing food and gorgeous nature
asana • pranayama • meditation • macrobiotic vegan food

️
yoga practice
10 days of delight with creative and playful Iyengar Yoga, invigorating, energising and deeply restful, pranayama and meditation to explore the heart and mind - nestled within the beauty of endless sky and beach on Amrum island.
Active yoga practise in workshop style in the mornings will be well balanced with recharging restorative classes in the afternoons. Asanas, pranayama & meditation will be completed with anatomy and philosophy.
Our mindful yoga practice connects us to the divine nature within us and beyond. The magnificense of the nature around, the nordic summer solstice light, the vastness of the ocean, the sounds of flocks of sea birds reflect the spaciousness within.
christine
Shares Iyengar Yoga in a playful and creative - yet intimate - atmosphere, allowing to rest in oneself and at the same time to be seen and assisted whenever appropriate. With her own 35 years of experience she provides the necessary understanding and guidance. With love and respect for the process she encourages to progressively deepen in practice and self enquiry.
daily rhythm
Mornings 3,5 hrs asanas, pranayama & meditation (sometimes walking meditation on the beach)
Afternoon we enjoy free time to relax.
Late afternoon 1,5 hrs restorative class (two times no class)
food / macrobiotic board
3 delicious vegan macrobiotic bio meals per day - prepared by Anne Seidel our master chef - nourish body and soul. Macrobiotic food - clear, light and balanced - enhances our inner listening, the ability to discriminate between what ist conducive and what is confusing in contact with our body, heart and mind.
We are always happy to share backgrounds about preparations.

plenty of free time
To relax into nature, explore the pristine dunes and sandy beaches, cycling and hiking, sauna and wellness, share the loving atmosphere of the community or just be with yourself, enjoy fantastic healthy food and hang out on the on-site private dunes of the charming retreat house.
accomodation
www.hauseckart.de
amrum island
A powerful spot in the Northern Sea of Germany where the elements sand, water, light, wind and space are tangible.
optional
Ayurveda Massage, Lomilomi, Kahuna, Craniosacral, Ginger Compress
booking on site
requirements
2-3 years of regular yoga practice
For all practitioners who love to dive deeper into yoga practise.
Open minded practitioners and teachers of all yoga traditions are welcome.
Tuition in German and English, or just English depending on the group.

price
10 days retreat incl. workshop style yoga classes, accommodation, vegan macrobiotic full board.
1.535 € in shared twin rooms
1.660 € single occupancy
contact
If you have any questions and for applications please email Christine directly: info@thestudy.de
or contcact us.
Information and application form in German language